Charter Flights to Schwäbisch Hall Airport: Book Your Private Jet
Schwäbisch Hall Airport, corporate airport of the Würth Group, is the ideal arrival point for business travellers, although the town of Schwäbisch Hall is certainly worth a visit for leisure as well. The airport is a General Aviation Terminal (GAT) with numerous exclusive services for private and business flight passengers. Because no commercial aircraft are serviced at Schwäbisch Hall, you can enjoy individual greeting upon arrival and your privacy is assured. Booking your charter flight to or from Schwäbisch Hall online with JetApp couldn't be easier.
History of Schwäbisch Hall Adolf Würth Airport
The airfield in Hessental, predecessor of Schwäbisch Hall Airport, was built as part of a military air base in 1938. Following its military use in the Second World War, the facilities were partly destroyed. Their restoration was undertaken by the US Army, who used the airport until 1993 in tandem with the Flying Club Schwäbisch Hall. Runway renovations began in 1994 following the US Army's withdrawal from the site. In 1998, a plan was devised to change the runway's orientation from 8/26 to 10/26 to increase capacity for larger aircraft. After approval was granted in February 2004, the first airplane landed on the new runway in August of that year.
The airport's facilities also had an upgrade with modern technical equipment, the establishment of the General Aviation Terminal as well as two aircraft hangars and an aircraft maintenance facility. Today the former military airfield is a modern business airport. Among its unique features are the option of holding business meetings directly at the airport in one of the conference rooms; at Schwäbisch Hall, flights are processed according to your needs with full service available for passengers, pilots and crew.
Adolf Würth Airport Location
Distances from Schwäbisch Hall Airport to:
Schwäbisch Hall centre: approx. 5 kilometres by car
Kunsthalle Würth: approx. 6 kilometres by car
Comburg: approx. 7 kilometres by car
Private Jet Charter from Schwäbisch Hall
Important business destinations throughout Germany and the rest of Europe are easily reached by private jet from Schwäbisch Hall Airport. Schwäbish Hall's central location makes it the ideal departure point for travel throughout Europe. The following cities are all reachable within about an hour: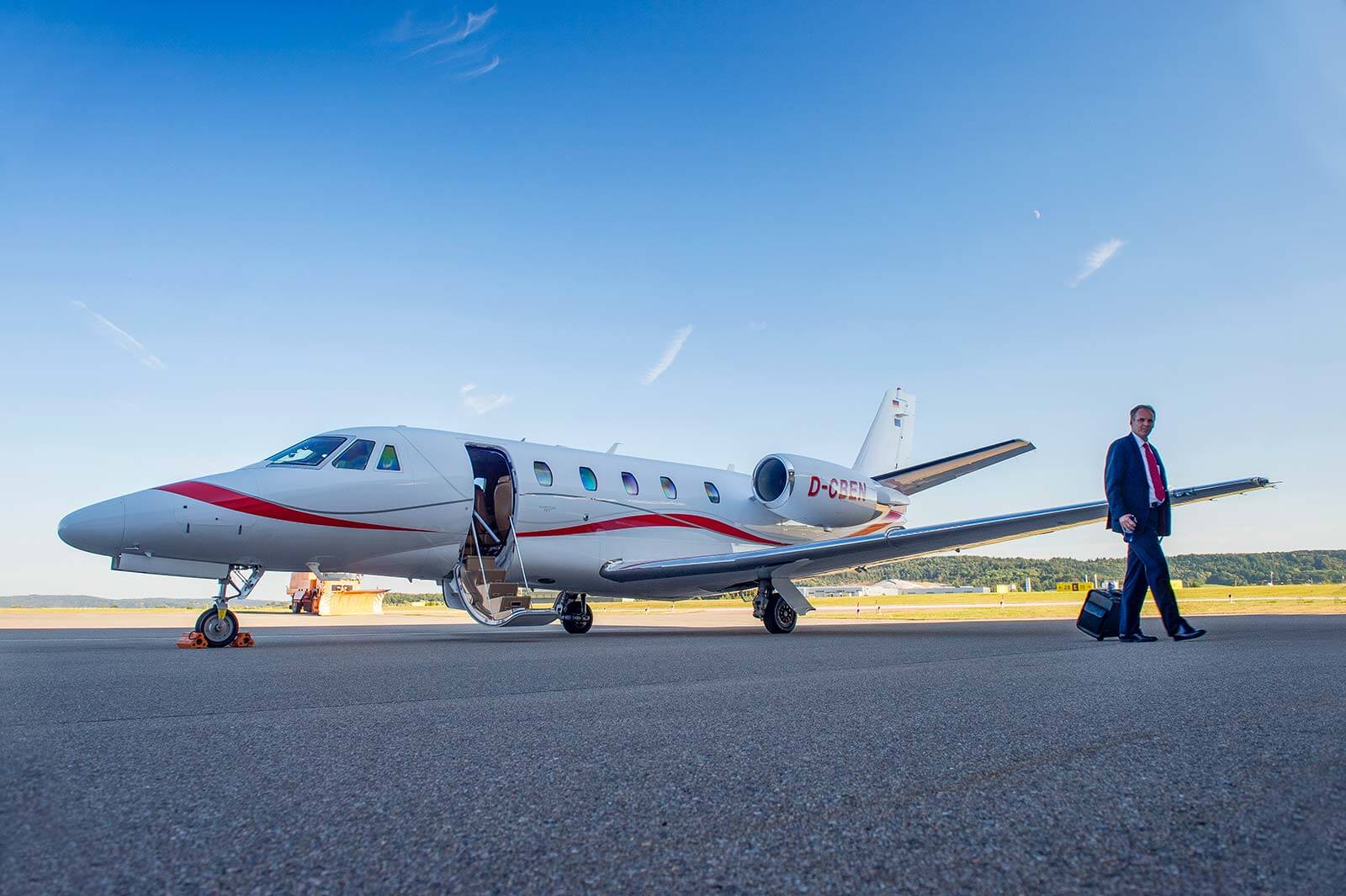 A business flight from Schwäbisch Hall to Berlin Schönefeld (SXF) is just under an hour with a further 20 kilometres to the city centre. In a little over 50 minutes you will be on the ground in Salzburg (SZG). If spending time in the area after your business meetings, a visit to the St Peter's Abbey – one of the oldest monasteries in German speaking countries – is not to be missed. Other attractions include Mozart's birth house museum and Hellbrunn Palace. Zurich (ZRH) and Prague (PRG) are also less than an hour by charter flight from Schwäbisch Hall. Just over an hour will have you landing in Vienna (VIE), where numerous cafés, cultural attractions, and historic sites are more than enough to fill any downtime you may have.
When you charter a private jet from Schwäbisch Hall, Adolf Würth Airport stands ready to see that your needs are well taken care of. VIP service from check-in to departure is an absolute given, whether you require something practical such as a conference room for a meeting at the airport or assistance with changing your flight plan. The customer care team will see that your journey is well-organised and comfortable. Below is an overview of available services:
Check-in and security at the GAT
Meeting rooms
Catering
Crew briefing
Fuelling
Aircraft servicing
Hangaring
Limousine service
Helicopter service
Schwäbisch Hall Airport is open Monday to Friday from 7am to 8pm. From April to September it is also open on weekends and holidays from 9am to 8pm, whereas the weekend and holiday opening times are reduced to 9am to 6pm from October to March. Take-off or landing outside of these times can be organised upon request with advanced notice. Schwäbisch Hall flights can navigate landings by either Visual Flight Rules (VFR) or Instrumental Flight Rules (IFR). The runway capacity is limited to aircraft of up to 40 tonnes MTOM:
| | | |
| --- | --- | --- |
| Runway | Length and width | Surface |
| 10/28 | 1,540 m x 30 m | Concrete |
| 10/28 | 750 m x 30 m | Grass |
Transfers from and to Adolf Würth Airport
The distance from the airport to Schwäbisch Hall is only five kilometres, which takes about 10 minutes in a limousine. The airport is also well situated for other cities on the A6 between Mannheim and Nuremburg, thanks to its convenient proximity to the Autobahn. Helicopter transfer to or from the airport is also possible. Corresponding services are available on site.
Business or Charter Flights to Schwäbisch Hall
While you may have travelled to Schwäbisch Hall for business reasons, the home city of Adolf Würth Airport in Baden-Württemberg is absolutely worth a visit. Its beautiful Old Town has a wealth of impressive buildings such as St Michael's Church and the Baroque Town Hall as well as picturesque medieval alleyways. Of particular note is the Benedictine Abbey Comburg which was founded in 1078 and looks over the town from its hilltop perch.
The cultural scene in Schwäbisch Hall includes the Kunsthalle Würth and the Hällisch Franconian Museum. Notable festivals such as the Open Air Theatre, Summer Eve Festival, Formula Mundi Film Festival, and numerous culinary celebrations add to the city's charm and atmosphere.
Schwäbisch Hall serves as the headquarters for many important firms and its business airport Adolf Würth offers expert service to private jet passengers and crew. Book your charter flight to Schwäbisch Hall with JetApp and let us organise the details.
Airport Facts
Airport code: EDTY
Altitude: 398 m (1,306 ft) above MSL
Passengers per year: 5,816 (2011)
Aircraft movements per year: 2,374 (2011)
Aircraft types: Propeller engines, short and medium range jets, regional aircraft
Runway operating hours: Weekdays from 7am to 8pm, weekends/holidays Apr. to Sept. 9am to 8pm, Oct. to Mar. 9am to 6pm; outside of these hours upon request
Runways: 2 (1,540 m, 750 m)
Top Connections
St Gallen Altenrhein Airport (Switzerland)
Stuttgart Airport (Germany)
Berlin Schönefeld Airport (Germany)
Salzburg Airport (Austria)
Zurich Airport (Switzerland)
Prague Airport (Czech Republic)
Vienna Airport (Austria)
Verona Airport (Italy)
Zagreb Airport (Croatia)
Cologne Bonn Airport (Germany)
Dusseldorf Airport (Germany)
Linz Airport (Austria)
Dublin Airport (Ireland)
Hamburg Airport (Germany)
Augsburg Airport (Germany)