Charter a Flight to Sion Airport
Located in the middle of the Valais Alps in Switzerland, Sion Airport is popular with private jet fliers the year round. Not far from the airport are a range of winter and summer ski slopes and a number of quiet mountain resorts. Compared to Geneva and Zurich, a charter flight to Sion Airport will bring passengers much more quickly to the recreational areas of Zermatt, Saas-Fee and Gstaad. A private terminal, reserved entirely for private jet traffic, provides an excellent service to guests.
History of the Sion Airport
Sion SIR Airport was opened in 1935. In the same year, the Valais authorities commissioned the first aviation school in the Swiss canton. Uniquely in Swiss aviation, the airport is open to both civilian and military flights to Sion. Consequently, the airport serves the Swiss Air Force as a base alongside the regions of Meiringen, Payerne, and Emmen. In addition, the military can even use the adjacent motorway as an alternative runway when needed.
In 1991, an expansion of the airport complex took place, which mainly benefited civilian air traffic. More recently, plans have been put gradually into place to pull the military out of Sion Airport and to carry out the training of combat pilots at other airfields. Under current plans, by the year 2020, the Air Force will most likely have left the airport entirely to civil aviation and will only use it as an alternative base for fighters.
In recent years, the airport has been extensively modernised. This comprehensive programme of modernisation and regeneration, as well as the airport's favourable location in the midst of the Valais Alps landscape, led to a rapid increase in the volume of charter flights to Sion. Sion Airport is famous for the largest air show in Switzerland, namely the "Breitling Sion Airshow". The Swiss, Italian, and French Air Forces present their feats of daring aerial acrobatics to crowds of enthusiastic spectators.
Sion Airport's Location
Sion SIR is not only outstanding because of its proximity to the best ski resorts; the Swiss business centres of Geneva and Zurich are also easily accessible by car. With a helicopter transfer from the airport, passengers can reach their destination even more quickly.
Distances from Sion Airport to:
Zermatt: approx. 76 kilometres by car
Saas-Fee: approx. 72 kilometres by car
Gstaad: approx. 95 kilometres by car
Crans-Montana: approx. 26 kilometres by car
Les 4 Vallées: approx. 15 kilometres by car
Verbier: approx. 53 kilometres by car
Geneva: approx. 133 kilometres by car
Zurich: approx. 272 kilometres by car
Charter Flights to Sion Airport
Whether skiing on the most exclusive slopes, golfing in against an impressive alpine backdrop, or simply conducting business meetings, book a charter flight to Sion Airport to maximise your comfort and save time. The airport itself boasts a state-of-the-art airfield that can process all common types of charter jet.
The following destinations are frequently flown to from Sion Airport:
A flight from Sion Airport to Nice takes less than an hour. The beautiful beaches of the Côte d'Azur can be reached in a few minutes from the city's airport. From Nice Airport, a helicopter can take passengers to Monaco in just a short time. A business flight from Sion Airport to Paris Le Bourget takes 1 hour and 43 minutes. The airport specialises in private aviation and is close to the business district of La Defense and the centre of the French capital. A charter flight from Sion Airport can reach the Swiss cities of Geneva and Zurich in 30 to 40 minutes, whilst a flight from Sion to the British capital takes about an hour and a half.
| | | |
| --- | --- | --- |
| Runway | Length and width | Surface |
| 07R/25L | 2,000 m x 40 m | Asphalt |
| 07L/25R | 660 m x 30 m | Grass |
Luxury at the Mountain's Edge: Sion Airport's VIP Terminal

Located in the middle of the Valais Alps, Sion Airport's restaurants boast impressive panoramic views over the mountains. Travellers from all over the world appreciate the airport for its convenient location close to the best ski resorts. Private jet passengers will be accommodated in a separate terminal, which includes three VIP lounges and several cafés and restaurants.
Check-in and security checks are carried out in private rooms. Consequently, private jet passengers can travel free of waiting times and the hassle of commercial air travel. A helicopter shuttle is available for your onward journey. Additionally, Sion Airport offers interested parties sport activities such as heli-skiing or parachute jumping as well as training in hang gliding.
Transfers from Sion Airport
Most of the ski resorts and mountain ranges in Switzerland can be reached by car in less than an hour from Sion Airport. Connections from Sion to the mountains are considerably shorter than connections from the airports of Geneva and Zurich. Saas-Fee, Les 4 Vallées, Zermatt, Crans-Montana, Gstaad and Verbier, for example, are all within easy reach of Sion. Car rental companies are located in Sion, three kilometres from the airport. VIP passengers can also book the airport's helicopter for transfers.
Take a Charter Flight to Sion Airport and Enjoy the Swiss Alps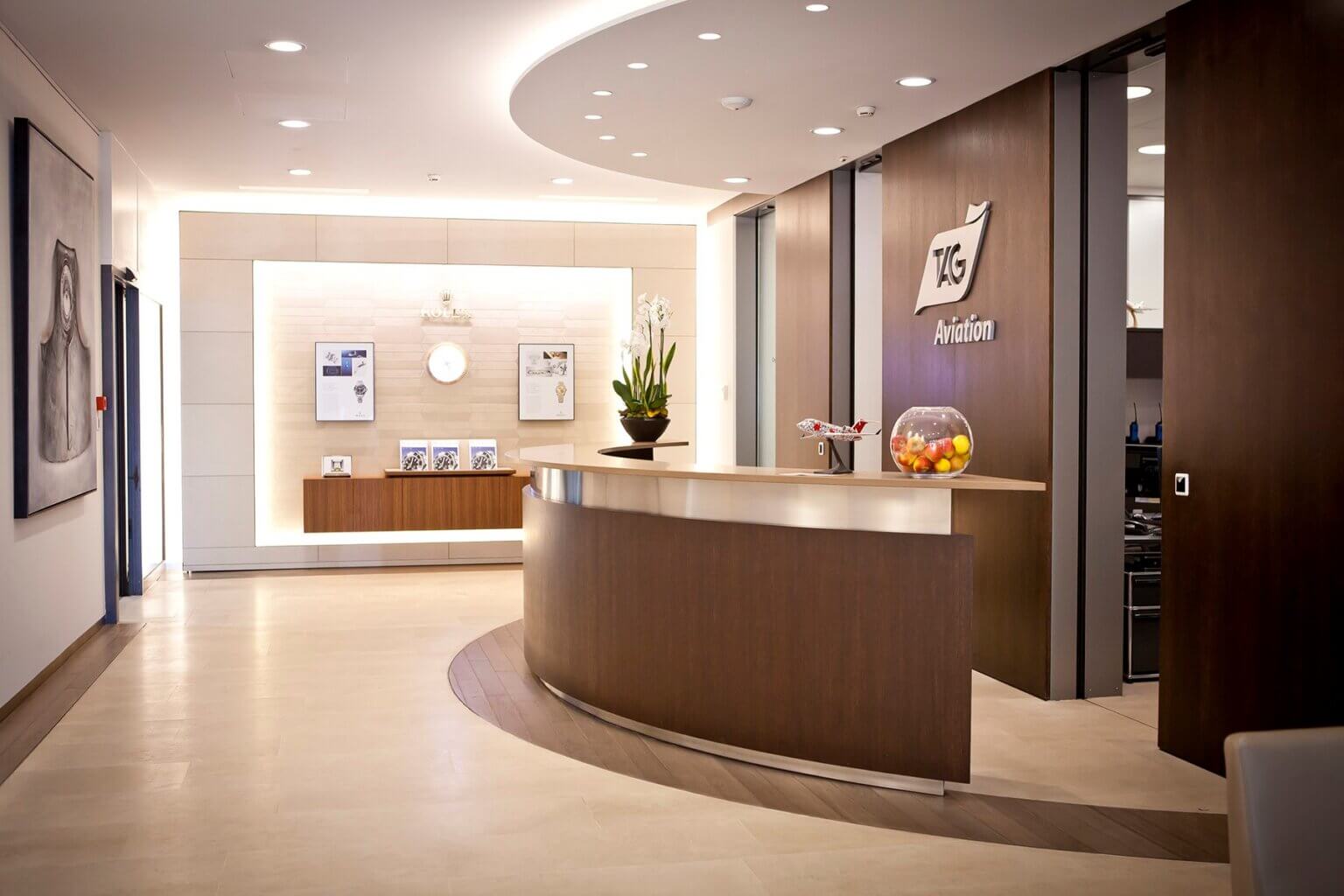 If you want to enjoy a skiing and wellness holiday in the Swiss mountains, Sion is the ideal destination for you. The surrounding mountain villages and ski resorts can be reached quickly by car or helicopter.
Many guests visit Zermatt - the mountain resort is located at the foot of the imposing Matterhorn - where holidaymakers can breathe in fresh mountain air. From paragliding and horseback riding to alpine hikes, Zermatt is also home to numerous exciting summertime activities.
For more experienced skiers, Verbier has demanding slopes and large off-piste areas. In summer, the golf courses in the two neighbouring towns of Crans and Montana are worth a visit with their stunning views of Mont Blanc and the Matterhorn.
The Saas-Fee, located on a mountainous plateau, is practically guaranteed snow every year. Every summer, international star chefs cook at the Davidoff Saveurs-Festival for guests of the resort. There are plenty of cultural delights in Gstaad as well as in Montreux. Classical music enthusiasts can get their money's worth at the Menuhin Festival Gstaad or the Sommets Musicaux de Gstaad. Finally, world-class jazz concerts take place during the Montreux Jazz Festivals.
Airport Facts
Airport code: LSGS / SIR
Altitude: 483 m (1585 ft) above MSL
Passengers per year: 35,287 (2014)
Aircraft types: all common aircraft and weight classes
Runway operating hours: 24/7
Runways: 2 (2,000 m, 660 m)
Top Connections
Paris Le Bourget (France)
Geneva Airport (Switzerland)
London Farnborough Airport (UK)
Zurich Airport (Switzerland)
Nice Airport (France)
Calvi Airport (France)
Saint-Tropez / La-Môle Airport (France)
Brussels Airport (Belgium)
London Biggin Hill Airport (UK)
Figari Airport (France)
London Luton Airport (UK)
Antwerp Airport (Belgium)
Brussels South Charleroi Airport (Belgium)
Cannes Airport (France)
Amsterdam Schiphol Airport (Netherlands)