Charter a Private Jet at Dortmund Airport
Dortmund Airport, also known as Dortmund Airport 21, lies to the east of the city and borders Unna and Holzwickede. The site was originally used as an aircraft landing site, but since then it has grown to become the third largest commercial airport in North Rhine Westphalia, based on annual passenger traffic. Book now for your next private jet either to or from Dortmund.
Dortmund Airport History
Even before the First World War, flights were departing from Dortmund; however, the exact date is not known. During the war an air station was opened north of the village of Brackel. This was the first location of Dortmund Airport. After the First World War, Dortmund Airport became a part of the Deutsche Luft-Reederei airline's postal network. However, the official aviation history of the airport began in 1926, when Dortmund DTM Airport was founded. At the time, the starting capital was 835,000 Reichsmarks.
By the Second World War, private flights out of the airport were suspended and the military took over its use. At the end of the war, the Royal Air Force took control of the airport and forbade German aircraft from using the site. In 1955, the Allies handed control of the airport over to the West German authorities. The short runway at Dortmund meant that heavy aircraft were unable to take off or land, and therefore, airlines such as Lufthansa were unable to operate out of the airport. An extension of the existing site was not an option due to nearby railroad tracks.
In 1960 the search began for a new location for Dortmund Airport. Quickly the area off the Chaussee road in Wickede was chosen, which is where the airport still stands today.
In 1993 work began on extending the runway and building a new terminal building. The airport developed steadily with modernisation projects happening every year. Consequently, more and more airlines began to use Dortmund.
Dortmund Airport Location
Distance from Dortmund Airport to:
Signal Iduna Park: approx. 14 kilometres by car
Florianturm: approx. 13 kilometres by car
St Reinold's Church: approx. 12 kilometres by car
If driving yourself to the airport, there are more than 5,100 parking spaces at your disposal. You can reserve your parking spot in advance online so you don't need to waste time searching for one, and instead can get to the terminal as quickly as possible. When you charter flights at Dortmund Airport you can use the exclusive priority parking spaces, which are situated right in front of the terminal building.
When you arrive at Dortmund Airport, taxis are available to take you directly to your destination. In addition, there are also a number of different rental car providers, which you can find on floor 0 of the arrivals terminal.
Top 5 Destinations: Flights from Dortmund
Whether you are travelling for business or leisure, make full use of the excellent location of the Ruhr valley and explore European hotspots, such as Munich and Zurich. The smaller cities such as Friedrichshafen also have great charm.
If you want to travel within Germany, your private jet can arrive at Munich, Nuremberg or Friedrichshafen in just a short amount of time: the flight to Friedrichshafen and Munich takes one hour, while Nuremberg is even less. If you want to visit another city within the German Ruhr region afterwards, your jet can bring you back to Dortmund quickly.
If you are looking to travel abroad from Germany, you can charter a private jet from Dortmund to Luxembourg or Zurich. In just three quarters of an hour you can arrive in Luxembourg, while flying to Zurich takes just one hour. With such short flight times, you can even arrange a multi-stop journey.
Special Amenities at Dortmund Airport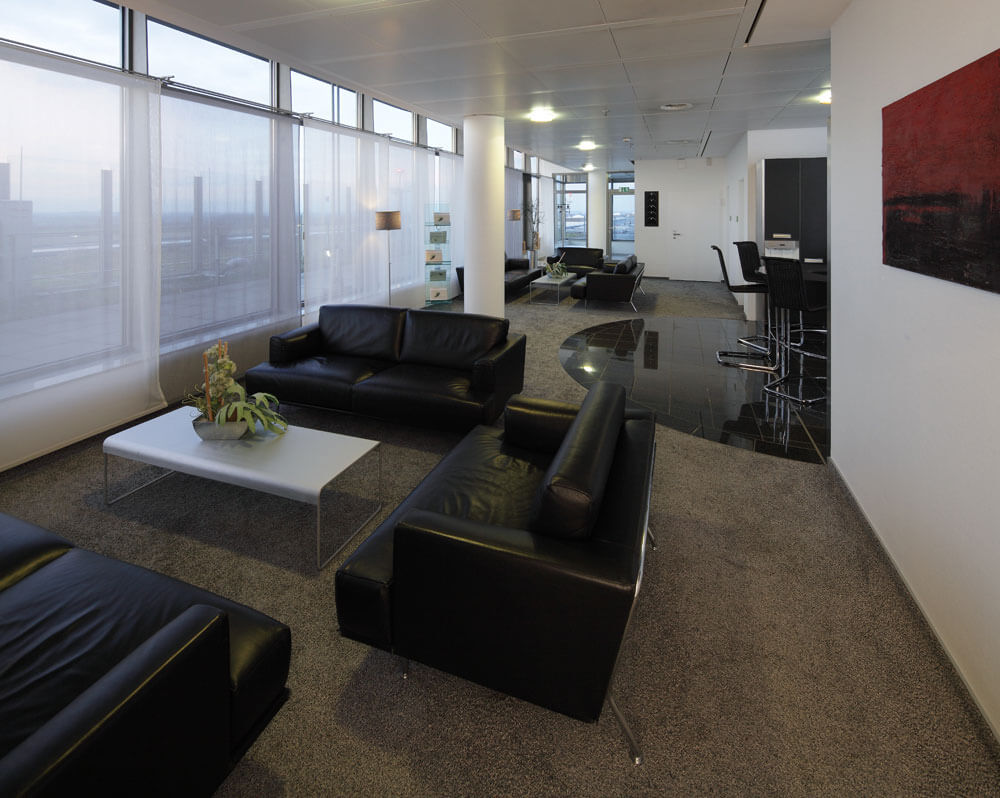 Dortmund Airport offers travellers a number of different shops and restaurants to enjoy across all three levels of the terminal, including duty-free stores. Moreover, across the entire airport building there are Wi-Fi hotspots, which offer data speeds of approximately 54 Mbit/s.
If you have some spare time before your Dortmund flight, use the visitors' terrace from which you can watch all of the planes take off and land. For those interested in learning about the organisation of an airport, you can take part in the airport tour. This will give you a behind-the-scenes view of everything involved in the smooth operation of Dortmund Airport, and it takes just around an hour and a half.
In early May, the 'Dortbunt' festival takes place. For two days this event offers a number of concerts, plays, and hands-on activities in Dortmund's city centre.
Flights to Dortmund: Runway Specifications
| | | |
| --- | --- | --- |
| Runway | Length and width | Surface |
| 06/24 | 2,000 m x 45 m | Asphalt |
At Dortmund Airport an Instrumental Landing System (ILS) is used to assist pilots with the approach and landing. Consequently, aircraft can arrive at Dortmund even in poor visibility. ILS has been in operation at Dortmund since 1999 and was renewed in 2016.
Book your charter flight to or from Dortmund quickly and easily using JetApp. Enjoy your stay in the Ruhr valley whether you are travelling on business or for pleasure.
Airport Facts
Airport code: EDLW / DTM
Surface area: 220 ha
Altitude: 130 m (427 ft) above MSL
Passengers per year: 1,918,845 (2016)
Aircraft movements per year: 29,128 (2016)
Aircraft types: all common aircraft and weight classes
Runway operating hours: 6am to 11pm
Runways: 1 (2,000 m)
Top Connections
Friedrichshafen Airport (Germany)
Mönchengladbach Airport (Germany)
Munich Airport (Germany)
Nuremberg Airport (Germany)
Luxembourg Airport (Luxembourg)
Zurich Airport (Switzerland)
Cologne Bonn Airport (Germany)
Stuttgart Airport (Germany)
Münster Osnabrück Airport (Germany)
Hamburg Airport (Germany)
Hannover Airport (Germany)
Paris Le Bourget Airport (France)
Paderborn Lippstadt Airport (Germany)
Palma de Mallorca Airport (Spain)
Salzburg Airport (Austria)