Hire a Private Jet at Nuremberg Airport: Germany's Best Airport
Distinguished by outstanding customer service, attractive amenities, and a pleasant atmosphere, Nuremberg Airport (NUE) has been chosen by readers of "Business Traveller" magazine as Germany's best airport each consecutive year since 2008. After Munich Airport, Nuremberg is the second-largest airport in Bavaria and stands as Franken's gateway to the world. Book a charter flight to Nuremberg and experience this award-winning airport's service for yourself.
The First Flights from Nuremberg: History of the Airport
Opening in 1955, Nuremberg Airport was the first airport to be totally reconstructed after the end of the Second World War and, as early as 1960, it was already serving 100,000 passengers per year. In order to meet the high volume of flights passing through, NUE Airport's only runway was extended twice in the following decade. In 1970, the first jumbo jet, a Boeing 747, landed at Nuremberg Airport in a much-publicised event, that attracted more than 20,000 spectators.
In 1986, Nuremberg Airport recorded a million passengers for the first time. The airport's popularity continued as Air Berlin made Nuremberg its hub in the 90s. During this time, the airport was connected to the city's public transport network and the second departure hall was extended. When, in 2003, Air Berlin withdrew from Nuremberg Airport, the airport was run temporarily at a loss. Today, NUE Airport is one of the fastest growing airports in Germany.
Nuremberg Airport: Great Service in a Small Area
Covering an area of just 519 hectares, Nuremberg Airport – or Albrecht Dürer Airport, as it's been officially known since 2015 – is characterised by comparatively short runways and small terminals. Nevertheless, it has found its way to the top 10 of the largest German commercial airports. In 2016, 3.48 million passengers passed through the airport and 59,602 flight movements were recorded. With two departure halls, an arrival hall, and a 13,317 square meter air freight centre, the airport operates efficiently around the clock. For passengers on flights from Nuremberg, there are over 9,000 parking spaces at the airport.
On the 2,700 metre-long runway, propeller engines, short and medium-range jets as well as long-range jets, regional and large aircraft can land and take off around the clock. For certain aircraft, for example the Airbus A380, Nuremberg Airport is not certified according to ICAO Code F. Aircraft in this category have nevertheless landed several times in Nuremberg.
If you want to travel by charter flight to Nuremberg or by private jet from Nuremberg, there is a dedicated private area within the General Aviation Terminal (GAT). In this area, no expense is spared: the staff takes care of everything on the ground, allowing for relaxed and discreet travel to European destinations, the Canary Islands, Egypt and Israel.
Nuremberg Airport Location
Located close to Nuremberg's city centre, Nuremberg Airport is well connected by both car and public transport. The underground line 2 takes 12 minutes from the airport to Nuremberg's main rail station. Additionally, the surrounding cities of the Franken region are not far away.
Distances from Nuremberg Airport to: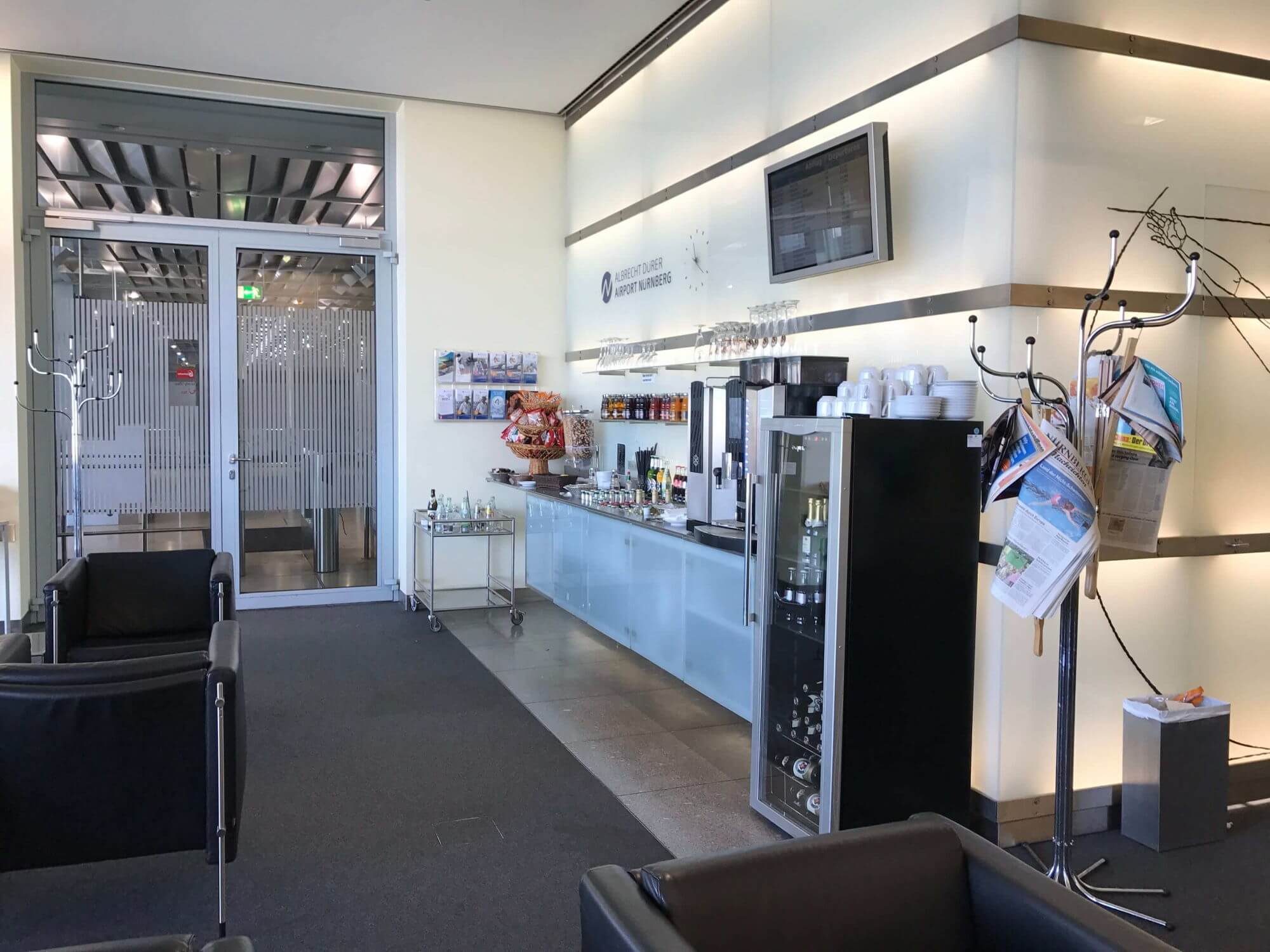 Nuremberg city centre: approx. 7 kilometres
Erlangen: approx. 16 kilometres
Bayreuth: approx. 65 kilometres
On request, an exclusive arrival or departure service awaits you at Nuremberg Airport. If you book a VIP service package for your departure, you will be received at the entrance of the terminal and accompanied through check-in and the security gate. In the meantime, a car service will take care of your car and will return it in top condition. Private jet passengers can relax in the Dürer Lounge, where drinks, snacks, magazines and computer workstations are available. After a short wait, you'll then be taken by car directly to your charter flight from Nuremberg.
A similar service awaits passengers when arriving at Nuremberg Airport. Passengers are received at the aircraft and accompanied through passport control and luggage claims, where the terminal service will help you with your suitcases. You will then be taken to your limousine, taxi, or car. If you've used the valet parking service, your car will be driven out to you and your luggage will be stowed in the trunk.
Charter Flights from Nuremberg Airport (NUE): Top Connections
Owing to its central European location, Nuremberg Airport is well connected to a range of destinations, both in and outside of Germany and Europe. For example, Munich Airport is a mere 40 minutes away from Nuremberg by private jet. Below, we've listed the most popular destinations from Nuremberg and their respective flight times. Choose your destination and the desired type of aircraft via JetApp and sit back and relax on your private jet from Nuremberg.
Discover Nuremberg with a Private Jet
The area around Nuremberg, which comprises 3.5 million inhabitants and about 170,000 companies, is one of the wealthiest regions in Germany. More specifically, it is one of the leading European technology regions and has several internationally-rated universities with a high level of research. Industrial interests aside, there is so much more to discover in Nuremberg and its surroundings, for example: Bayreuth, the home of the famous Wagner Festival, the UNESCO World Cultural Heritage in Bamberg, and the baroque university town of Erlangen.
Flying to Nuremberg for pleasure? Book private jet charter to Nuremberg with JetApp and travel to this wonderful city in utmost comfort.
Airport Facts
Airport code: EDDN / NUE
Surface area: 519 ha
Altitude: 310 m (1017 ft) above MSL
Passengers per year: 3,480,000 (2016)
Aircraft movements per year: 59,602 (2016)
Aircraft types: all common aircraft and weight classes
Runway operating hours: 24/7
Runways: 1 (2,700 m)
Top Connections
Munich Airport (Germany)
Wiesbaden Erbenheim (Germany)
Riga Airport (Latvia)
Vienna Airport (Austria)
Cologne Bonn Airport (Germany)
Dusseldorf Airport (Germany)
Barcelona Airport (Spain)
Stuttgart Airport (Germany)
Keflavik Airport (Iceland)
Trabzon Airport (Turkey)
Berlin Schönefeld Airport (Germany)
Zurich Airport (Switzerland)
Paris Le Bourget Airport (France)
Constanta Airport (Romania)
Bremen Airport (Germany)