Charter a Private Jet to Dusseldorf Airport
Dusseldorf Airport is the third busiest in Germany and is situated approximately 6 kilometres outside North Rhine-Westphalia's capital city. Two runways serve both departing and arriving flights with the General Aviation Terminal offering passengers of charter flights a comprehensive range of VIP services.
Dusseldorf Airport: Overview
At the beginning of the 20th century, the first municipal airship hangar was located south of today's airport commercial park. It was used by the world's first airline, the German Airship Travel Corporation (DULAG). Albert Paul Vieh, a pioneer of airship travel, built the first semi-rigid airship here. Dusseldorf (DUS) Airport followed in 1927 at its current location. It was extensively renovated and expanded in the 1990s. In the early 2000s, the next big project followed: Dusseldorf Airport City, a corporate park with a conference hotel, an underground carpark, and the biggest Porsche showroom in Germany, all located southwest of the airport. In 2013, the airport underwent a large rebranding campaign, changing its name and adopting a new logo in line with its growing ambitions. Dusseldorf Airport now stands alongside Los Angeles LAX, New York JFK, and Paris CDG as one of the most recognised airport brands in the world.
Dusseldorf Airport Location
Distance from DUS Airport to:
Dusseldorf city centre: approx. 9 kilometres
Königsallee: approx. 9.5 kilometres
Messe Dusseldorf (exhibition centre): approx. 6.6 kilometres
Your Charter Flight from Dusseldorf
Dusseldorf Airport is situated six kilometres north of the city and covers an area of 613 hectares. Due to its close proximity to the city centre and the Messe Dusseldorf (exhibition centre), very short transfer times are a given – ideal when you need to get to a meeting quickly. The airport's convenient location is not the only advantage for charter jet passengers. The number of easy-to-reach onward destinations are plentiful: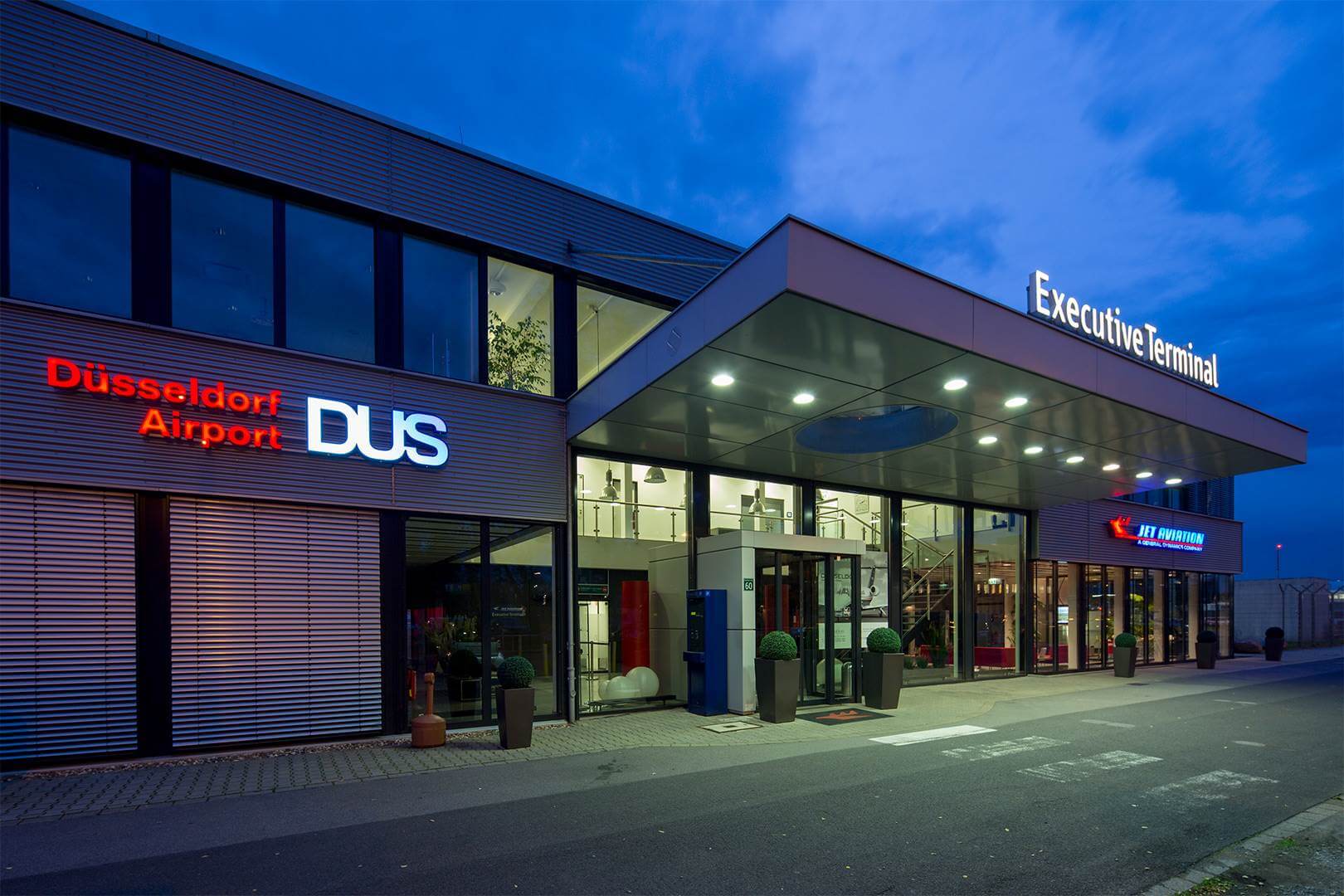 A Dusseldorf flight to Friedrichshafen (FDH) is about 1 hour and 15 minutes. The southernmost commercial airport in Germany is about three kilometres (ten minutes by car) from Friedrichshafen city centre and is the ideal departure point for trips to Lake Constance and the four-country region surrounding it. A charter flight from Dusseldorf to Munich (MUC) takes 1 hour and 10 minutes. Because the Bavarian capital's airport is 30 kilometres outside the city, a transfer by helicopter is the quickest means of reaching the centre. A flight from Dusseldorf to Nuremberg (NUE) takes about an hour. From there, it's an easy onward journey to Bayreuth or Bamberg. A flight to Luxembourg (LUX) are under an hour; the centre of the Grand Duchy is just six kilometres away. Kirchberg-Plateau, the seat of numerous banks and European institutions, is only 15 minutes by ground transfer. Whether for business or pleasure, a private jet from Dusseldorf to Zurich (ZRH) is just 70 minutes, meaning you could be at a meeting in the centre of the Swiss capital or in a cosy alpine cabin in less than two hours. A 30-minute VIP helicopter shuttle over spectacular scenery is the most memorable way of reaching the beautiful resorts of St. Moritz and Gstaad.
Dusseldorf (EDDL / DUS) is the third largest airport in Germany after Frankfurt am Main (EDDF / FRA) and Munich (EDDM / MUC), which is clearly illustrated by its number of passengers and flight connections: more than 211,000 flights transporting over 23.5 million passengers are processed annually (2016). To ensure the highest comfort for passengers flying by private jet charter in Dusseldorf, the airport's General Aviation Terminal (GAT) offers exclusive service and VIP amenities in an 800 sqm facility. These include:
Separate security and passport control
Exclusive lounge
Conference centre
Pilots' lounge and briefing room
Servicing and refuelling of aircraft through an external service provider
Premium parking area with a separate entrance
The General Aviation Terminal is located at Flughafenstraße 60 with a parking lot 13 in the immediate vicinity.
Dusseldorf Airport provides two runways suitable for charter aircraft of all types and weight classes that can be navigated by Visual Flight Rules (VFR) and Instrumental Flight Rules (IFR):
| | | |
| --- | --- | --- |
| Runway | Length and width | Surface |
| 05R/23L | 3,000 m x 45 m | Concrete |
| 05L/23R | 2,700 m x 45 m | Concrete |
To minimise the noise disruption for residents, air traffic at Dusseldorf Airport is subject to certain restrictions, which also apply to most charter flights. Flight movements may take place between 6am and 11pm, with a limited number of landing times available between 10pm and 11pm. However, flights between 11pm and 6am are not completely banned; propeller aircraft with a noise certificate and a maximum starting weight of 9 tonnes may take off and land 24 hours a day.
Transfers to and from Dusseldorf Airport
Various options are available for a comfortable transfer into the city. In addition to the airport taxis (standard credit cards accepted as payment) at the arrival and departure zones, a number of car hire firms operate from the airport. Of course, chauffeured limousines or executive car transfers can be organised upon request.
Book a Private Jet to Dusseldorf and Explore the Surroundings
A business flight to Dusseldorf Airport guarantees a comfortable arrival. There's no shortage of elegant and sophisticated accommodation in the "City on the Rhine." For starters, the Breidenbacher Hof and Steigenberger Parkhotel are both located on Königsallee (Kö for short), the city's most chic shopping street. The grand boulevard along the canal is home to upscale boutiques from some of the most exclusive designers. Fashion industry execs will be very familiar with the biannual Collection Première Dusseldorf (CPD) which draws movers and shakers to the Dusseldorf Messe to place their orders for the coming season. Golf enthusiasts can also find plenty of excellent golf courses in the area, the best example of which is the Golf Club Hubbelrath, situated a short distance outside the city toward the Bergisches Land, whose two courses regularly host national and international tournaments.
With JetApp, there's no more convenient way to book your charter flight to or from Dusseldorf – flexible, comfortable, and nonstop.
Airport Facts
Airport code: EDDL / DUS
Surface area: 613 ha
Altitude: 36 m (118 ft) above MSL
Passengers per year: 23,510,569 (2016)
Aircraft movements per year: 211,666 (2016)
Aircraft types: all common aircraft and weight classes
Runway operating hours: 6am until 11pm
Runways: 2 (3,000 m; 2,700 m)
Top Connections
Friedrichshafen Airport (Germany)
Munich Airport (Germany)
Nuremberg Airport (Germany)
Luxembourg Airport (Luxembourg)
Zurich Airport (Switzerland)
Cologne Bonn Airport (Germany)
Stuttgart Airport (Germany)
Hamburg Airport (Germany)
Berlin Schönefeld Airport (Germany)
Palma de Mallorca Airport (Spain)
Hannover Airport (Germany)
Paris Le Bourget Airport (France)
Salzburg Airport (Austria)
Nice Airport (France)
London Luton Airport (UK)