Your Charter Flight in Mönchengladbach
Mönchengladbach Airport is 8 kilometres northeast of Mönchengladbach city centre and 25 kilometres from Düsseldorf. It is easily reached by autobahn and has ample free parking. The 120 hectare grounds and 1,200-metre runway are used exclusively by private airlines, making the facility ideally equipped to serve the needs of business travellers arriving by charter jet at Mönchengladbach Airport for appointments in the surrounding area.
Mönchengladbach Airport History
Following the Second World War, the land on which the airport now stands was first used as a collection point for debris. In 1955, it became a landing strip for gliders and model planes. A year later, construction on a hangar began, followed by an air traffic control tower and terminal. The airport's current runway was built in 1973. The airport was initially conceived to relieve pressure on Düsseldorf Airport. However, because of the length of runway, it is best suited to smaller, regional aircraft and specialises in general aviation for private jets from and to Mönchengladbach and neighbouring Düsseldorf.
Monchengladbach Airport Location
Distances from Mönchengladbach Airport to:
Mönchengladbach city centre: approx. 8 kilometres by car
Old Market and Kapuzinerplatz: approx. 8 kilometres by car
Düsseldorf: approx. 25 kilometres by car
Several options for ground transfers are offered for those arriving by private jet at Mönchengladbach Airport. On request, a limousine transfer can be organised to meet your Mönchengladbach flight upon arrival. Taxi and car hire companies also stand ready to see you into the city or other onward destinations.
Special Events and Charter Flights at Mönchengladbach Airport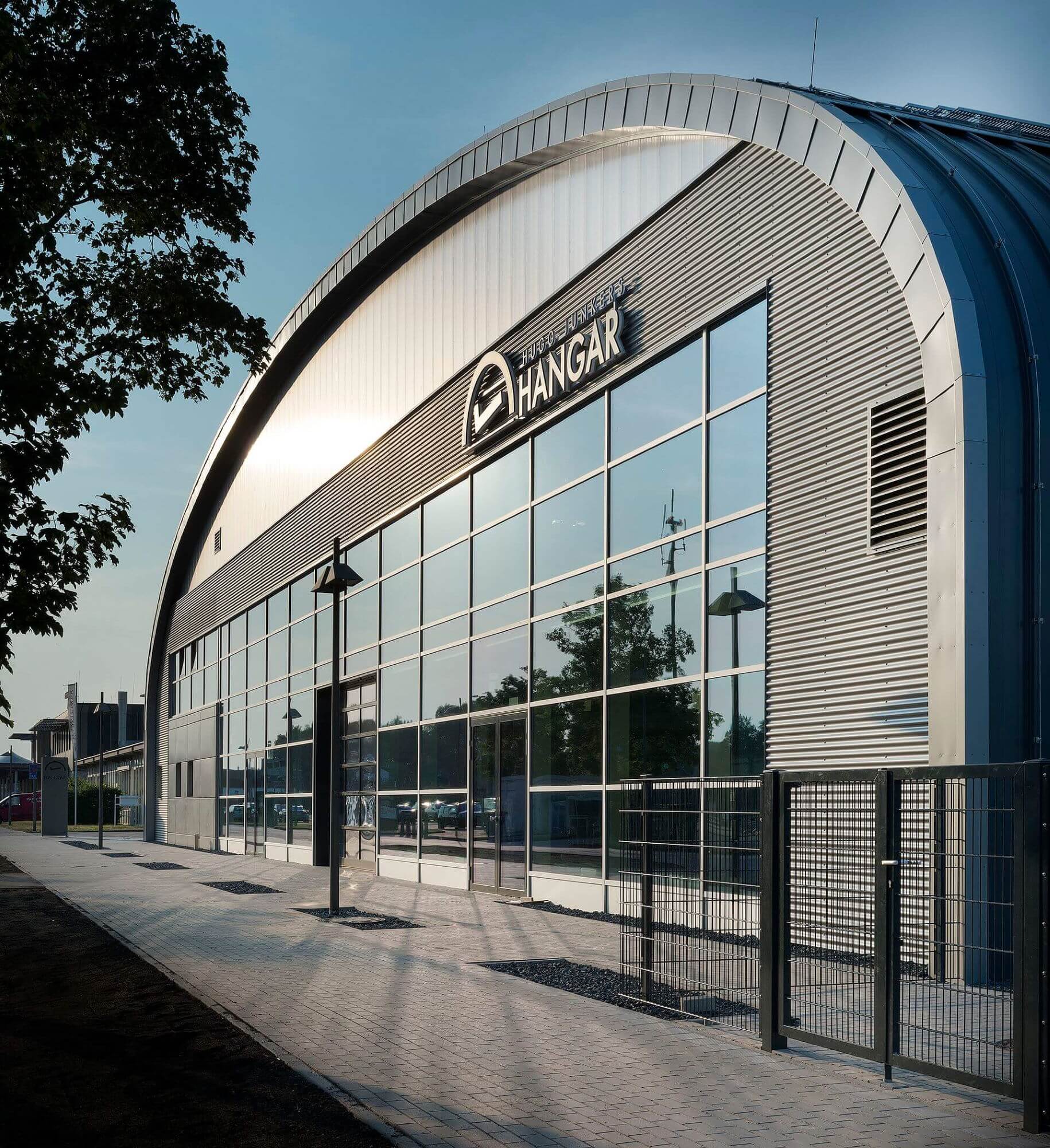 Used for exhibitions and events, the Hugo Junkers Hangar became the latest building to join the airport grounds in 2015. It houses one of the last aircraft of the Junkers Ju 52 series that remains in flying condition. The classic plane is looked after by a local club of historic aircraft enthusiasts who even hire out the plane with an experienced pilot for flights over Mönchengladbach. Visitors can learn more about the life and work of technical pioneer Hugo Junkers and the history behind the famous plane in a permanent installation housed in the hangar.
The building also has three seminar rooms of various sizes and its main area makes for a unique location for private receptions and events. Your guests can arrive by business jet at Mönchengladbach Airport and simply stroll to the hangar upon landing (red carpet optional). The Hugo Junkers Hangar makes a spectacular venue for conferences or company announcements followed by an elegant reception organised by noi! Event & Catering.
Airport Bistro Winkens is open from 10am to 6.30pm offering refreshments with a runway view before departure on your private jet charter from Mönchengladbach Airport. There you can find:
Breakfast (or breakfast buffet available upon request)
A changing daily lunch menu
Coffee and cakes
Assorted snacks
Soft drinks & beer on tap
Charter Flight from Mönchengladbach Airport: A Gateway to Germany and Beyond
The most common nearby destinations for hire of a private plane from Mönchengladbach Airport are:
A charter flight from Mönchengladbach Airport is the quickest possible means of reaching many German cities. Dortmund, the Lower Rhine region, and Cologne Bonn are each a 35 minute flight, with Münster Osnabrück a further five minutes. The Grand Duchy of Luxembourg is also just a 45 minute jaunt by private plane charter from Mönchengladbach. Airports outside of the region such as Augsburg, London's Biggin Hill or Milan Linate are also a comfortable flight.
| | | |
| --- | --- | --- |
| Runway | Length and width | Surface |
| 13/31 | 1,200 m x 30 m | Asphalt |
Mönchengladbach private jet hire is the key to getting you quickly and comfortably to your destination without the hassle of queues and long waiting times. As one of Germany's leading general aviation airports, Mönchengladbach Airport is in and of itself a fascinating place to visit, especially for classic aircraft enthusiasts. On the annual "Open Doors Day," the airport assembles a mint-condition collection of vintage airplanes. It's even possible to experience a flight over the area in a vintage aeroplane. Those curious about the early days of aviation can satisfy their curiosity before stepping back into modern times with a state-of-the-art Mönchengladbach charter flight to their next destination.
Airport Facts
Airport code: EDLN / MGL
Altitude: 37 m (121 ft) above MSL
Aircraft movements per year: 42,093 (2015)
Aircraft types: all common aircraft and weight classes
Runway operating hours: 8am to 8.30pm; closed over Christmas & New Year public holidays
Runways: 1 (1,200 m)
Top Connections
Dortmund Airport (Germany)
Münster Osnabrück Airport (Germany)
Weeze Airport (Germany)
Cologne Bonn Airport (Germany)
Luxembourg Airport (Luxembourg)
Westerland Sylt Airport (Germany)
London Biggin Hill Airport (UK)
Hamburg Airport (Germany)
Paris Le Bourget Airport (France)
Maastricht Aachen Airport (Netherlands)
Antwerpen Airport (Belgiium)
Oberpfaffenhofen Airport (Germany)
St. Gallen Altenrhein Airport (Switzerland)
Schwäbisch Hall Airport (Germany)
Stuttgart Airport (Germany)