Book a Private Jet to Westerland Sylt Airport
Sylt is a beloved holiday destination. For many, the names Westerland and Sylt bring immediate associations of rejuvenation and relaxation. But the north German island community is also attractive for business travellers and Westerland Airport is fully equipped for VIP travellers. Make a restful getaway with a private jet hire to Westerland Sylt Aiport.
The History of Westerland Airport
Northeast of the seaside resort, Westerland Airport was already in operation by the end of World War I. The small airport consisted of a simple hall and an unpaved landing strip. In 1919, the second regular flight connection in Germany was put into operation between Berlin, Hamburg, and Sylt, making Westerland Airport the site of one of Germany's longest running scheduled flights. At that time, flights to and from Westerland only took place in the summer with only three to five passengers on board. Nevertheless, Sylt Airport received an impressive 2,560 guests as early as 1925.
Civilian air traffic came to a complete halt during World War II, only resuming after 1961. In 1972, Sylt Airport GmbH took over as the airport's operating company. However, it wasn't until the 1990s that the airport underwent a series of expansions and renovations. These included a new terminal with an integrated air traffic control tower. An instrument landing system (ILS) was also installed.
Westerland Airport Location
Distances from Westerland Airport to:
Sylt Aquarium: approx. 3 kilometres by car
St Severin Church: approx. 5 kilometres by car
Meerkabarett concert venue: approx. 10 kilometres by car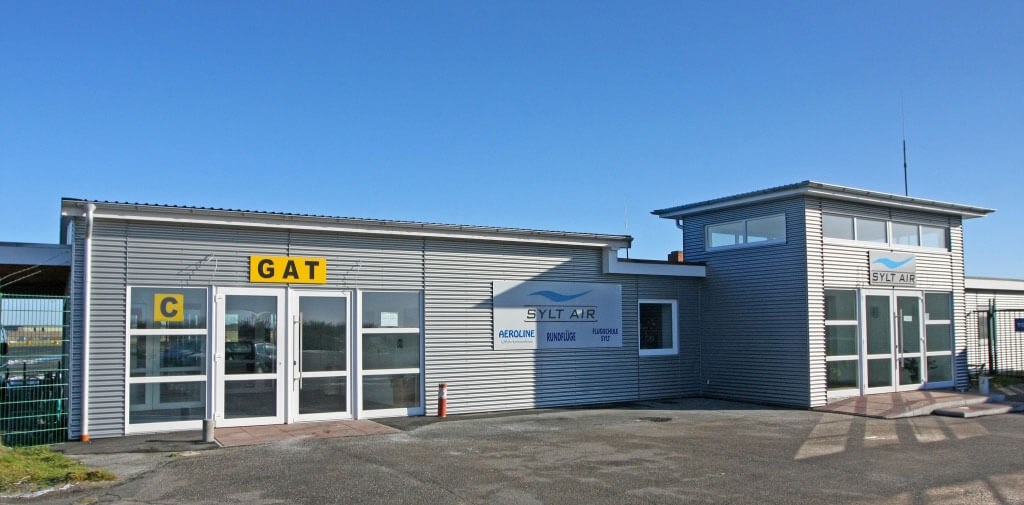 Charter a private jet to Westerland Sylt Airport and discover the charm of this beloved German seaside resort area. Taxis are available on the left side of Terminal for transfer to your accommodation or meeting. For those who prefer to drive themselves, hire cars are also available at Westerland Airport. Many hotels also offer a shuttle service for arriving and departing guests. Limousines are also available upon request. When travelling from the island and using your own car, the secure carpark at Westerland Airport is only 50 metres from the airport building.
Charter Flights from Westerland Sylt Airport: Top Five Destinations
Private jet hire from Westerland makes for a comfortable and convenient connection to destinations near and far. Within an hour and a half, you could be landing in:
A private flight from Westerland Sylt Airport is an hour and 28 minutes to Zurich. Whether travelling on business or leisure, the beauty of Zurich's old town on the banks of the Limmat River is rivalled only by the Swiss city's majestic natural surroundings. Within Germany there are numerous attractive destinations that make an easy excursion from Sylt. Berlin, Cologne, and Mönchengladbach are each about an hour's flight, whereas Bremen is a short 44 minutes.
Advantages of Private Jet Charter at Westerland Sylt Airport
With a private jet, there's no need to arrive hours before your flight. Following a quick check-in, you can proceed directly to your aircraft. However, for those who enjoy a little downtime before flying, Westerland Airport's Kolobri restaurant offers a sumptuous menu and congenial atmosphere. The VIP lounge also serves light fayre and coffee. Other available amenities at Westerland Airport include:
Bicycle hire
Glider flights
Small aircraft flights
If you plan taking a flight to Westerwald in the summer, there is always some entertainment on the beach promenade. Or simply enjoy the island breeze from one of the quieter parts of the resort. In autumn, the annual Windsurf World Cup Sylt takes over the island's attention, with the end of September and beginning of October welcoming over a hundred participants competing in various events and even more spectators soaking up the atmosphere.
Westerland Sylt Airport Runway
| | | |
| --- | --- | --- |
| Runway | Length and width | Surface |
| 06/24 | 1,696 m x 45 m | Asphalt |
| 14/32 | 2,120 m x 45 m | Asphalt |
Although small, Westerland Sylt Airport is well-equipped with modern technology. In addition to the arrival and departure of private and charter flights from Westerland Sylt Airport, the facility is also used by gliders and small engine aircraft.
With JetApp, your charter flight is organised according to your schedule and requirements, whether you are flying into a small airport such as Westerland Airport or a major airport such as Düsseldorf or Berlin Tegel.
Airport Facts
Airport code: EDXW / GWT
Altitude: 8 m (26 ft) above MSL
Surface area: 240 ha
Passengers per year: approx. 139,000 (2015)
Aircraft movements per year: approx. 6,101 (2015)
Runway operating hours: 10am–7pm in the summer, 10am–5pm in the winter (exceptions possible)
Runways: 2 (1,696 m; 2,120 m)
Top Connections
Hamburg Airport (Germany)
Bremen Airport (Germany)
Berlin Schönefeld Airport (Germany)
Osnabrück Atterheide Airport (Germany)
Cologne Bonn Airport (Germany)
Zurich Airport (Switzerland)
Mönchengladbach Airport (Germany)
Hannover Airport (Germany)
Munich Airport (Germany)
Münster Osnabrück Airport (Germany)
Frankfurt am Main Airport (Germany)
Dusseldorf Airport (Germany)
Dortmund Airport (Germany)
Stuttgart Airport (Germany)
Porta Westfalica Airport (Germany)